Do you understand this menu in French?
Transcript of the conversation:
Yann, the restaurateur: So you have some leftover dish of the day. Today is Thursday. Like every Thursday, a real beef tartar with a knife. Right, then. 200 grams minimum. As many oven-roasted potatoes and a green salad. Okay, it's 16 € for this little Thursday tartar. The common core, what we'll offer you every day. Every day, there are three croque-monsieur, more or less sophisticated, as you will see. Two tarts that are technically quiches, beautifully made quiches served generously and accompanied by a comfortable green salad. Two big salads that have always been opposed to each other. We make you a big vegetarian salad facing a big carnivorous salad full of duck ok. You have to like duck: duck confit, dried duck breast, duck gizzards confit. We have two soups in this season, each day with mushrooms which faces today a soup parsnip carrot coconut. Okay, parsnip, carrot, coconut milk or mushroom velouté. Oysters from Cancale, of course. Desserts, we'll come back to that. In detail, the croque-monsieur. First of all, they are of a modest size, which means that one croque-monsieur may not be enough for you if you are hungry. They even come in pairs, so you can appreciate the caliber. Some people can handle two croque-monsieur. Given your caliber, my dear, I don't think so.
Client: No...
Yann, the restaurateur: Okay, I don't advise you. One is enough. Otherwise, my little formula at 12,50. 
Client: Yes !
Yann, the restaurateur: Yes, it's more balanced 
Client: Very good.
Yann, the restaurateur: since it is the croque-monsieur, of your choice, a small portion of the soup of your choice and finally the vegetarian salad, there reduced to a smart proportion. Okay. The soups of the day are mushroom soup or parsnip carrot coconut. For the croque-monsieur, ham and cheese, it's the daily croque. Good ham, good cheese. In second place, a croque-monsieur with fish, in this case cod, julienne, leeks, carrots, curry and fresh coriander. The ultimate, the vegetarian. We are on pear and butternut roasted in the oven, some roasted hazelnuts and gorgonzola, this blue cheese, eh you know. So this may sound like a bit of a turn-off. In fact, it's perhaps the most popular croque-monsieur we've ever made. Okay. That's it. So by the unit, by two or in a formula, the croque-monsieur. For the "tetars", I told you that it was a quiche. In fact, the first one will be a seasonal quiche. Leek, cauliflower, chorizo. The vegetarian alternative today: leek, carrot, celery, Saint-Marcellin and then some pumpkin seeds, sunflower seeds and roasted pine nuts. I think we've done the trick. 
Client: That's great! 
Yann, the restaurateur: I'll give you a minute to think about it.
The vocabulary card: more than 50 words and expressions
Leave your first name and e-mail address below to receive the free vocabulary sheet by e-mail! ⬇️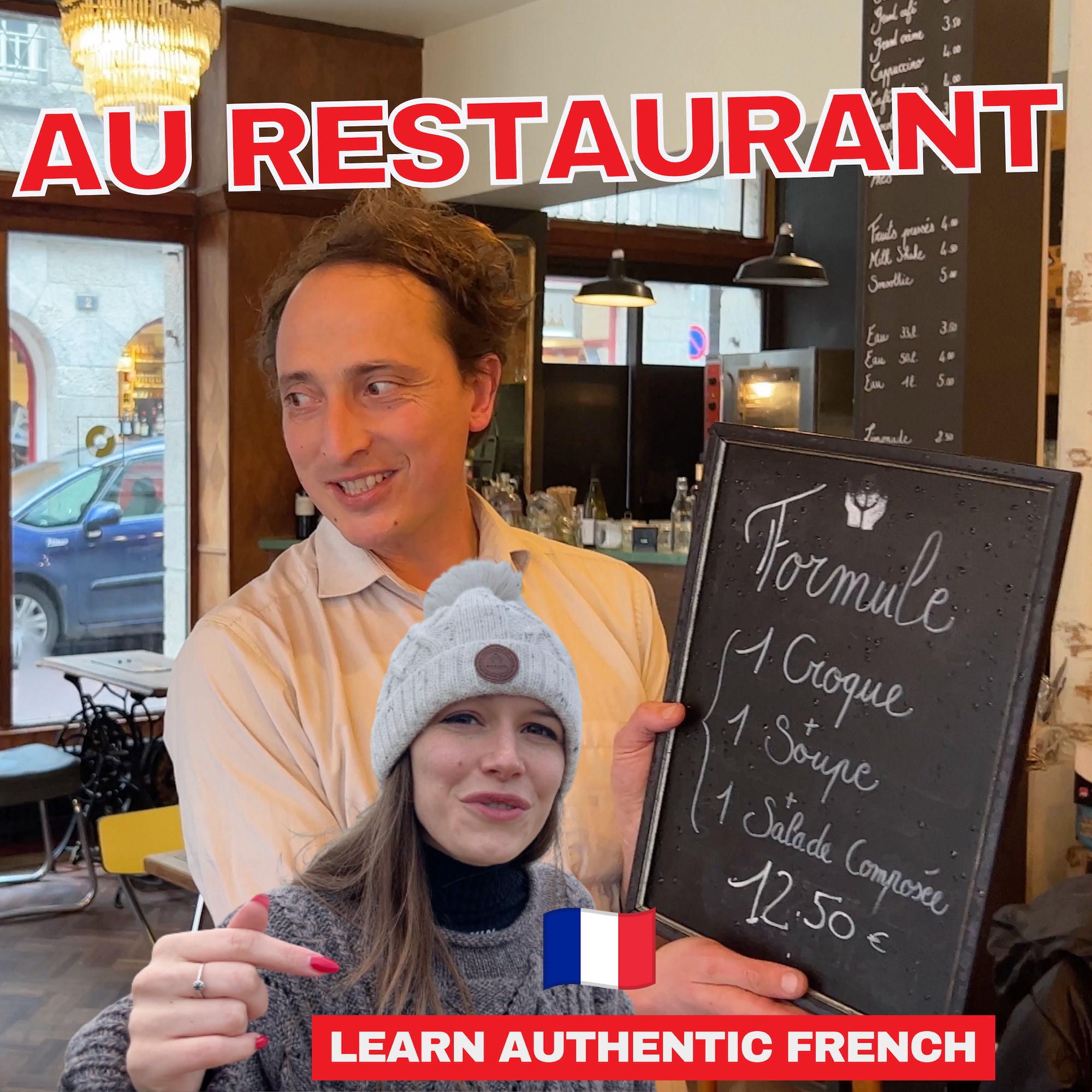 🎁 Get your free vocabulary sheet
Leave your name and e-mail address to receive the vocabulary sheet for the video "At the restaurant", the audio and the transcript of the dialogue ⬇️
I'll send you more free content, but I promise, you can unsubscribe at any time 🙏